BOUNCE HOUSES
Train Station Inflatable Obstaticle Course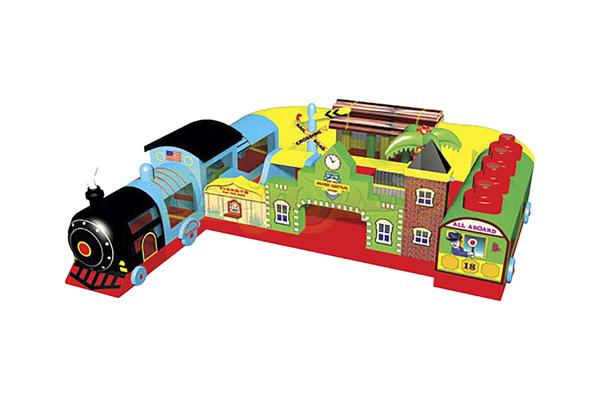 The train is at the station with this adorable and colorful Fun Express train station inflatable obstacle course. Once kids enter through the front of the train, it's on to gentle climbs and whizzing slides, under upside-down obstacles, and maneuvering around pop ups. Once in the interior of the station, participants are greeted by a 3D palm tree and a train signal pole. The exterior art makes kids feel like they are at a real train station, with a ticket booth, a detailed train and even a clock image to make sure the train is on time!
The inflatable play structure begins with a front-loading obstacle entrance, taking participants through tunnels and pop-ups to facilitate maneuvering skills and build confidence. The challenge obstacle then leads to an exciting climbs and slides, all to guarantee hours of enjoyable physical activity.
Each inflatable play structure has mesh windows for easy viewing
Enjoyable for Toddlers / Juniors
Dimensions
Length: 27'
Width: 20'
Height: 8'0"
weight: 350 lbs.
Rental Price: $350 per day